аудиогайд българия – audioguide bulgaria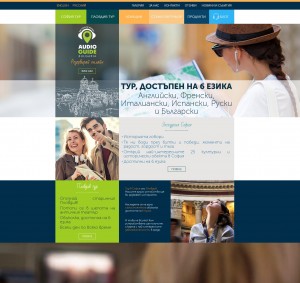 | | |
| --- | --- |
| Project name | аудиогайд българия – audioguide bulgaria |
| Category | Web design: Technology and Market |
| Registration date | 30 August 2018 |
| Author | Christiana Iontcheva |
| Status | Approved |
Description
Аудиогид България е млада и амбициозна компания, която предлага уникални аудио екскурзии из София и Пловдив с авторски екскурзионни маршрути, разработени с помощта на едни от най-добрите български историци и екскурзоводи. Компанията предлага най-иновативните и съвременни аудио устройства за туристи и групи.
Освен специализираните турове София и Пловдив, фирмата продава и отдава под наем аудио оборудване за туризъм и посещения на музеи и изложби, конференции, семинари и всякакви събития, в това число аудио и радио гидове, безжични конферентни системи, многофункционални системи за всякакъв тип екскурзии, както и стационарни, интерактивни и мултимедийни системи.
***
Audioguide Bulgaria is a young and ambitious company that has developed unique trips in Sofia and Plovdiv. The company offers unique itineraries written by professional guides and historians from Bulgaria. The company offers the most innovative and up-to-date audio devices for tourists and groups. Apart from the specialized tours Sofia and Plovdiv, Audio Guide Bulgaria sells and rents audio equipment for tourism and museum visits and exhibitions, conferences, seminars and all kinds of events, including audio and radio guides, wireless conference systems, multifunctional systems for all types of excursions, as well as interactive and multimedia systems.