Terra mater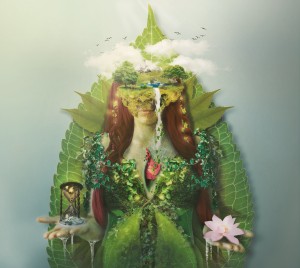 | | |
| --- | --- |
| Project name | Terra mater |
| Category | Computer Graphics |
| Registration date | 21 September 2018 |
| Author | Еlora Pavlova |
| Status | Approved |
Description
Terra Mater or Mother Earth could be depicted in various ways. This is my story, my point of view.
Once upon a time, billion of years ago, in a way that scientists still can't explain Mother Nature was born. She gave birth to the nature and every living creature known to humankind. Her face was unknown, but her beautiful creations became her face features.
Unfortunately along with the beauty there was destruction. Slowly but surely the humankind was destroying the beautiful earth with its reckless decisions. Her heart – a beautiful rose symbolizing the love she holds for her creation, started burning from the fuel ignited by our negligence.
Lost faith in us Mother Earth started to count the remaining time with the help of a sand clock, but instead of sand there were lost souls falling to the bottom of the clock.
However she believed one day we would be able to see our wrongs and make a change, so this is how the white lotus bloomed. Symbolizing how life always finds a way and continues to exists. She will keep it safe until we learn to appreciate and protect the gift called nature.